At long last, here it is!! I got my pre-order in the mail yesterday from Amazon.com and let's just say I was not disappointed. Ok, I've seen many designs by Drew (aka TheCrochetDude) so I was expecting great things but that was even an underestimation of this book.
Would it sound condescending to say I'm so proud of Drew for this book and the patterns that are in it? I hope not, because I don't mean for it to be. He has just so outdone himself, you'll be surprised too.
There are a number of things in here that I have plans to make. There's even a hoodie that I just L.O.V.E. so much that I'm going to make it for myself.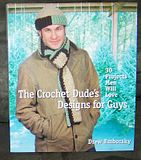 If you click on the picture of the book it will take you right to the page on Amazon where you can buy this book.
I highly recommend it.

By the way, the book has a lot of Drew's humorous personality in it as well, but there is a spot in there where he talks about his mother and dedicates the book to her. It will touch your heart.