Yes, he just keeps getting better and better, doesn't he? Drew has once again created another new purse and I think this might just be his best yet, if that's possible!
Click here
to take a look.
I can't wait until the pattern comes out. As you can tell from looking at my blog I like Drew's purses. Now I'll have yet another one too make. YaYYYY!!!
Oh wha the heck, here's a pic of it. Don't ya just love it??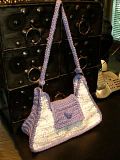 Just to verify........This is not my version of this purse. Drew has not come out with the pattern yet. I just loved it so much I had to share it with you.
NOW ON SALE.......CLICK HERE FOR THE LINK, I've bought mine already!!