With permission, I can show you the doggy sweaters I'm having published. I'm very proud of them, if I do say so myself. These will all be published in a book of Dog Clothing coming out in the fall 2008 by Annie's Attic.
First, here is what I called a 'Pet Pillow' and as you can see, it passed the test. I barely had enough time to get my camera and Romo was sleeping on it when I got back.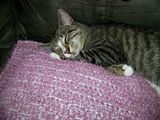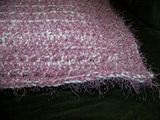 Here is the 'Doggy Football Jersey'. Of course it is in Dallas Cowboys colors and I just had to put my favorite player (Terrell Owens) number on the back of it!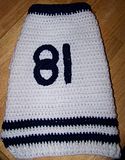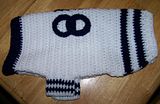 Next is a sweater called 'Handy Dog Sweater'. It is handy because it has a detachable hood and pockets with velcro on the inside to carry those dog biscuits.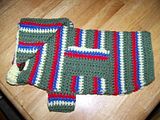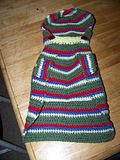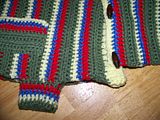 And last, but not least, is my favorite.... 'Dreamy Dog Sweater'. It has a detachable hood, booties and rhinestones galore. I just think it's so darned cute. I know I shouldn't toot my own horn, but hey, what the heck?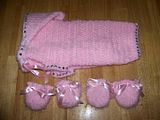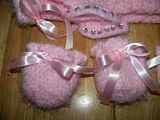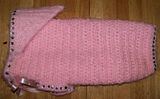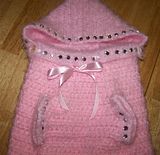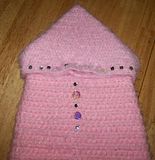 I will keep you posted and let you know when the book is coming out. Let me tell ya, to be just starting out like I am, to have these accepted has given me confidence to keep going. I'm excited!