Well, I've had a few people ask me for pictures of my new house so here they are.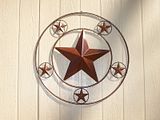 Here is the star my parents bought us for Christmas. It's on the front of the house and I just love it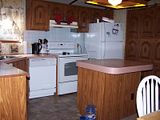 Here is my kitchen. If you look in the oven, you can see the ham I'm making for dinner tonight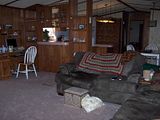 Here is myh living room. The pillow case on the floor is full of Bernat Softee Chunky, 4 skeins, because I had to wash them. They were pee'd on. Not sure who did it. That's the last time I leave a WalMart sack on the floor. You can also see my computer area (always the messiest), the kitchen and the dining area are in this pic too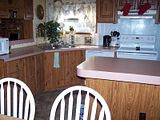 Here is another angle of my kitchen. I love the big island and the big window that looks out into the treed yard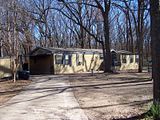 Here is my the front of my house from the road. I'm not too thrilled about the outside of the house, the paint colors that is, and we're going paint this spring. A creamy yellow for the main part, burgundy shutters and dark green around the trim.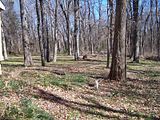 Here is a pic of the back yard. There are tons of trees, mostly oak trees. We spent a lot of time raking the leaves and burning them a couple of weeks ago. I can't wait for the spring to see everything turn green again. Can't wait
So there you have it. There is a lot of work to be done, especially on the outside, with painting and landscaping but that's half the fun of buying a house, right?
BTW, that is one of my 4 cats wandering around in the yard. They love it here!