For those of you who visit my blog you may have noticed that I changed my background. A very dear friend of mine was recently diagnosed with breast and uteran cancer. I guess this my very small way of drawing awareness to it.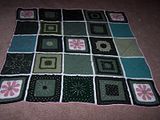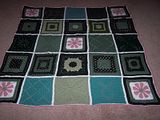 And thank you to all of you who pitched in the help me put together this comfortghan for her. She loves it, as does her cat. *smile*
Viqui, please know my prayers and thoughts are with you. You are strong,
YOU WILL BEAT THIS!!