We have soooo many trees where we moved to, so many oak trees and they've shed all their lovely leaves onto the ground for us to walk on, like a carpet. To be honest with you, I never bothered raking before and would just let the wind take care of it. There are just way too many leaves for the wind to deal with right now so we've helped them along.
Austin's job was to keep the dogs out of our hair and I have to say, he did his job the best.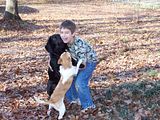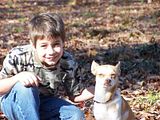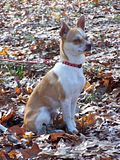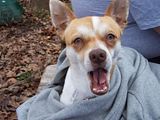 Even Chico was 'pooped' by the end of the day. And he was cold so I had to wrap him up in my daughters sweater. Heck, she didn't need it. She was working too hard!!