This is how I feel right now.....

Ok, so ya'll know how much rain there has been here latelyin Texas.... It's been just awful!
Well, if you've been paying attention, you'll also remember that we have a lot of trees around our house, including one that we cut down and it went through my son's bedroom ceiling...not fun.
Well, Friday night, while dh was working the second half of a double shift, I was sitting on the loveseat crocheting and all of a sudden..BANG... a huge branch fell through living room ceiling...right over the couch.
DH says it's because the dead trees just soak up the water, instead of using it like the living trees do......if he says so....
It's fixed now but here are some pics of what it looked like.
This is how my couch looked when the tree went through the ceiling. The funny thing is that even before I talked to my wonderful hubby on the phone to tell him what had happened, I had this picture taken...lol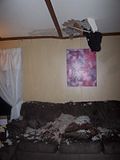 If not for this electrical wire I am certain the log would have been laying on my couch. Thank goodness it was there because my special little doggie, Chico, was laying in the one corner asleep when it burst through.
And the 'on top' view. Yup, it went through in two spots but all the way through in just one spot. As I said, I really think it would have been one BIG hole if not for the electrical cord. The breaker popped and the tv went out because of it, but it was just fine, thank goodness!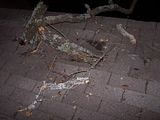 I really hope these dang trees stop falling on my house! Enough is enough!!!!!