I know I know......I've not been posting as much as I usually do...I'll try to do better, I promise.
Not a lot has been happening lately. With the kids home they've on my computer much more than I have been......frustrating yes.....but it gives me more time to crochet. I've even signed on with a very well known person in the crochet world to do some contract work for 'them'. I'm excited about it.
My parents will be here next week, Wednesday August 1st, and will be staying for a week. I'm very excited. It's always so much fun when they're here. They spoil the kids like crazy. They just love going shopping down here. A lot of things cheaper....except for food that is!! I'm hoping my mom, whose mother (my dear sweet grandma) taught her to knit, will remember enough to show me how to knit. It's been a long time since she's picked up the needles though so I don't know. I don't ever remember her knitting...ever!!
I've made some more hats. I'm hoping they will sell well once the cooler weather hits. Time will tell.
Next Saturday, Aug 4th is dh's high school reunion. I'm sooo nervous about it. He is very gregarious..the life of the party and I'm just the opposite....shy and quiet...until you get to know me. I will know not a sole there so it will be tough for me. Besides that....I don't a dang thing to wear to it!!!
Things are going well at my crochet home
...Crochetmania
... just like always. What a great bunch of people...and by people I mean women...lol... It's like sitting around and crocheting and having a *insert beverage here* with friends. I just love it!!
You know I have to post a pic or two so here are 2..........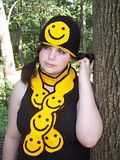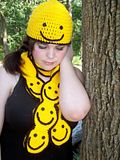 This is the new scarf and hats that I've made...I have them on sale at my
Etsy store
Have a great weekend everyone!!