Here it is!! Presenting the 'Ribs and Scallops' Cardi. I crocheted this for
The Crochet Dude
in late summer but couldn't tell anyone because of publication rules. But now I can shout it from the rooftops!!
This was such a nice cardigan to crochet. It was made with Red Heart Soft in Seafoam Green.
The picture on the left is that actual publication photo. That is the actual sweater I made in the photo. So cool! On the right is the sweater before I mailed it off to Drew. The lighting makes the colors look different but it's the same one.
It is available for purchase at Wal-Mart, Hobby Lobby and Michaels for sure....according to Drew. Or online at the
Coats and Clark Website
. I haven't got mine yet but you know I will have to get one of my very own!! If you see it anywhere let me know please!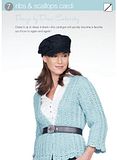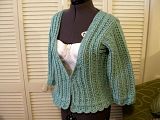 Edited...picture on the dress form donated by TheCrochetDude aka Drew Emborsky. Thanks Drew.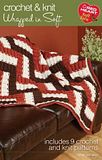 Here is what the cover looks like.....