Well, she's at it again. She did tell me I had 2 packages coming but I didn't think anything could top yesterday's box. Here's what I got in today's box........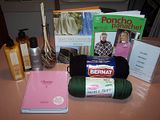 As you can see I got a 'load' of stuff. Some great stuff from Pier 1 Imports, some more great yarn, a couple of crochet books and an awesome set of Denise Interchangable knitting needles, with $5 going to breast cancer research. I only know how to 'very' novicely knit but for Viqui, I will learn. May not be today, but I promised her I would learn.
She also crocheted me 10 squares. 2 green and as she called them, a starter set of Stained glass squares. I've never been a big fan of crocheting with black but after seeing vibrant these squares are I'll be doing more, without a doubt!!