Why? Well, he brings you all kinds of wonderful stuff. Yes, it's true, it comes from a store or another person. Yes, it has to be paid for. Yes, you even know it's coming. But still, dontchya just love him??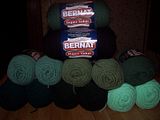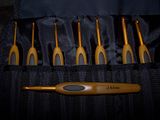 Well, Miss Viqui strikes again. I got a box from knitting warehouse.com today. She had told me it was coming and even gave me a hint. 'Think Green Clover". Well, once I opened the package to see 12 skeins of Bernat yarn in greens and a whole set of Clover hooks in their very own carry case, I fully understood.
She amazes me to no end. I just can't tell you. I will never be able to put in to words what this woman means to me. The thing is, we've seen each other face to face but I feel closer to her than I can explain. I'm sure any of you that have friends that you've met online understand what I mean.
Viqui, hun, get strong. Get well. I'm praying for you each and every day