It's hard to believe that it's been over a week since my last post. I guess I've been busy. Actually I have been.
I've been crocheting my little fingers off!!

I made 3 Baby it's Cold Outside sweaters for family expecting babies in the fall. Two boys and one girl. Isn't modern medicine wonderful? Now you can make things in the 'right' color even before a baby is born. The one on top is for the little girl and the other two are for boys. I don't really like the bottom one but........... I'm also making each one of them the 'Seija set' from the 'Stitch 'n Bitch' book. I have the one little girl hat done already and it's adorable. I'll post a pic later this week.


I just made this for my Etsy store. It's a cupcake purse. Cute huh?


And I also made these 'Baby Janes' for my Etsy store. Kathy Hudgins of CrochetMania designed the pattern and has allowed me to sell them on my store....thanks buddy!!


Besides that, I did sell a set of baby sandals with a hat on my store, so I had to make that too because she wanted them for a baby boy and I had listed in pink for a girl. Been busy, let me tell ya!!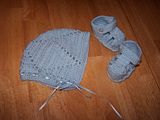 I finally gave in and turned the air conditioner on the other day. We've been lucky this year and it hasn't been THAT hot yet so I've been able to talk dh into keeping it off. Finally a couple of days ago when the humidex got to about 105F I gave in. I just couldn't stand it anymore. I know I won't be able to stand the electric bill when it comes in.....but you gotta do what you gotta do, especially live in jolly ol' Texas!!
'Til next time.......................