The other day
Viqui
sent me an email telling me that she was sending me a gift. She said she had thought of it when she saw the pictures on my blog of Austin's birthday. I could not, for the life of me, figure out what it was going to be. So when the UPS guy showed up today...late at almost 8pm,
geesh
...I opened up a box to a 16 piece dinnerware set from
Corelle
.
The funny thing is, every time I go somewhere I go to the dinnerware section and
oogle
the dishes. I've wanted to get a set like this for a long time but never could afford an 'extravagance' for myself.
As silly as it sounds, I was so thrilled when I saw this set in the box....I was even silly about it. They are apple design to match, how I'm trying to make, my kitchen!
Here's a picture of them.....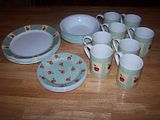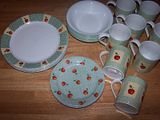 Thank you
Viqui
....you are the best!!!!