Well, lately I've been doing a lot of smaller stuff to put on my Etsty store. I just finished a really cute baby girl sandal/bonnet set. It's so cute.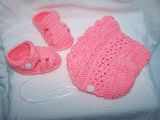 I've put that on my store and just know someone's going to swipe it up....lol
I'm working on a couple of Baby it's Cold Outside sweaters for cousins that are having babies in August and October. I'll likely make a matching hat to go along with them and maybe even booties. If I REALLY get ambitious I might make a baby blanket to match, don't know yet.
And, in the meantime I want to keep plugging away at getting items made and added to my Etsy store.
Wish me luck!!