Geesh

, it's been nearly a week since I've posted anything.....shame on me....

Let's see, what's new. Well, we've started the 'let's start getting ready for school' routine this week. Going to bed earlier and waking up earlier. It's hard to believe school is almost here already...not that mind...

lol

. It's been a hellish summer here, that's for sure. My two older kids fight a lot....well, to be honest they really only fight once a day....from the time they wake up until the time they go to bed. It's so stressful.

My daughter starts her senior year in high school this year......I just can't believe it. My baby girl is almost grown. Everything I can do for her, to teach her, is done. There's nothing new I can do. Nothing I can say that she hasn't heard a million times before. Now it's up to her to do with it what she will. She's a good girl though. I am very proud of her. She's going to be a teacher...a high school teacher. She will make a good one. With the age of my kids, she could possibly teach my youngest when he's in high school.

That'll

be interesting if it does happen......

I've been busy crocheting lately too. As I've said in earlier posts, I'm crocheting something for
TheCrochetDude
. I'm almost finished too. I'll be finished with it tomorrow and they'll I'll be able to send it off to him. It's been fun though. I've enjoyed it a lot. When I'm finished with that I'll be busy making a couple of hat/sweater/booties sets for an
Etsy
order. It's nice to be busy like that. Actually making money doing something I enjoy.

Whodathunkit

? It's been horribly H.O.T. here too this week...over 100F. I can't stand it. I guess I can't complain too much....who'd listen...

lol

. Thank goodness for air conditioners.

Ok

, I've taken up enough of your time, now go do something productive. Weed the flower bed. Do the dishes. Sit down with a nice tall glass of iced tea and crochet something. Yeah, I like the last choice better too! Think I'll do that one!Now, you know I wouldn't leave you without a picture or two....Here is my daughters cat playing peek a boo...silly cat!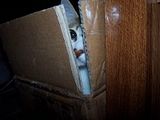 This is what I had for lunch today. My kids looked at me like I was out of my mind when I took this photo. "Mom, why are you taking a picture of

foooooood

?" They just don't understand...

lol

.This is my

favvvvvvvorite

lunch. Grilled cheese and tomato soup....yummy!!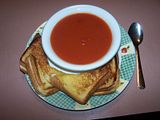 Have a great day everyone and thanks for stopping by to share a moment of your time with me!