Well, with all the talk of THE cookies I just had to make them. As soon as the kids and the hubby were out the door this morning I got started. It took me about 2 hours from getting the ingredients out to cleaning up when they were allllll done.
Here is the finished product....made about 80 cookies or 6 1/2 dozen.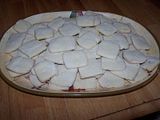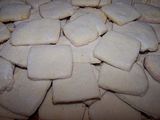 This is what they look like when I roll them out (I couldn't find my rolling pin so I used my hands and a glass.....lol) and cut them into 'squares'.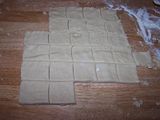 My cat even wanted in on the action. He jumped on the cookie sheet.....I was not amused to say the least. But when I saw the pawprint I just had to leave it!! lol


So, I'm letting them cool down and then going to put them in the freezer. They are definitely the best when they are cold. They melt in your mouth, literally!!
See the recipe in the post below.