Well, it's been 'a day'. First a few pics...this Belle playing...as you can see she likes yarn already. In the bag is the yarn for the afghan I'm making for my daughter's best friend for her birthday.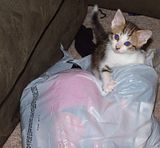 Here are the 4 colored squares I'm using for the ghan...I like it so far.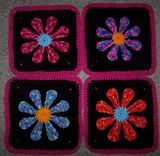 It wasn't all a bad day. I got this awesome Crochetville bag from a FGM at the Ville. I was so excited when my dh came home with a big puffy. It was such a horrible horrible day and this made my day, without a doubt. I hope she knows what it meant to me, it was awesome!