I'm totally redfaced.......Viqui sent me some stuff a couple of weeks ago, when I sick (I guess that's why I forgot) and I didn't post it on here. Geesh......
She sent me 3 angels that we are going to design a dress for, with her designing 90% of it I'm sure..lol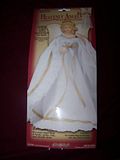 She sent me 4 great squares....yes Chico had to get nosy and 'see' who had them first. I guess he smelled her furbabies on them! They'll be great for the blanket I'll be making as soon as soon as I get enough squares.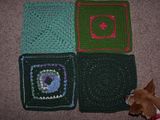 And then there's this shawl...........how pretty is this?? I just LOVE it!! It came at the perfect time, when I was sick, and I wore it every morning when I was laid up on the couch and cold. It was just perfect for this time of year. It's going to be chilly starting tomorrow again too so I'm sure I'll get much more use out of it. It is so soft, I wish you could feel it!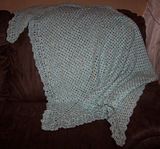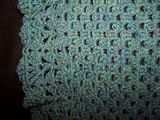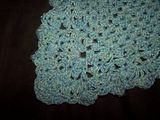 And this does not include all the goodies she included for everyone. Austin got the movie 'How to Eat Fried Worm' and laughed his butt off when he watched it, while eating the gummy worms she'd attached to the movie. He got some other stuff too, as did the other kids and even dh got a big bag of Snickers.
She also sent me 3 beautiful tops and some yarn and some other goodies.
Thank so much Viqui....you are just way to kind to me!! I'm so sorry I forgot to post this. I was sick...that's my story and I'm stickin' to it!!!