This is NOT what you want to see online....
UPDATE: Tornado Warning Moves East



Last Edited: Friday, 13 Apr 2007, 8:39 PM CDT
Created: Friday, 13 Apr 2007, 8:21 PM CDT



Updated 8:21 p.m.: The National Weather Service has issued a tornado warning for Hopkins, Raines, Van Zandt and Hunt counties until 9 p.m. A strong line of thunderstorms is producing baseball-sized hail and possible tornadoes. Residents are advised to take cover immediately
We are in Van Zandt county.

Well, at about 8:30pm tonight I heard the words I've been dreading ever since I moved to Texas........'If you live in Wills Point take cover immediately'........I think I must have had racing stripes in my undies. I hoarded the kids into a closet with pillows over their heads while I tried to find some news about it on the radio because our 'dish' went out...great timing for that,huh? DH went outside to see if he could see or hear anything and I got the closet in our bedroom ready for us to take cover in. Sam was on the phone with her best friend, who's TV link had not gone out, and she kept us up to date as to what was being said about our area, seeing how it had already passed her area. We ended up being just fine and it never came to us it went just north of us about 10 miles, if that. BUT, I've never been so scared in my life. It was such a helpless feeling, just walking around waiting for a storm to come and take everything away from me. It shook me up quite badly, to say the least.
And had to include a couple of 'awwww' pics....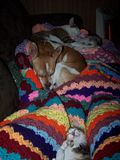 If you look closely in the above picture you will see what I saw when I was sick, laying on the couch for the past few days...yes, I was sick AGAIN...I hope I'm done with that 'stuff' now!! Belle, Chico, Patches and Bo...all keeping me company in my 'sick bed'. Too funny!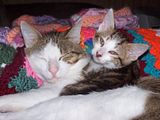 This was just too cute. Patches laying with Belle. She looks so cute.