It is so hard to believe that my little guy is already 8 years old. I swear it was just a few months ago that he was born.....
On birthdays we let each child pick whatever meal they want (that we can make at home). As strange as it seems, Austin's was hamburger patties with gravy and onions, corn on the cob and cheesey broccoli. DH made the whole thing all by himself. So it was even a special treat for me!!
Here is the meal with just Austin and here is everyone sitting at the table, waiting for me to hurry up and take the picture so we can eat!!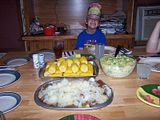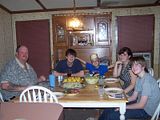 Of course, cake has to be a main event!! I didn't have any decoration icing so I made due with some of Austin's favorite things.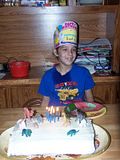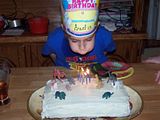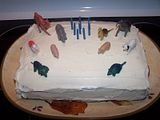 And what birthday would be complete without some gifts. Here are a couple....
Grammy and Grandpa sent this awesome trampoline all the way from Canada. Ok, they really sent us the money so we could buy it for him, but isn't it great?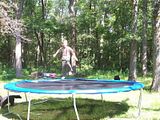 He had such a great day!!
Happy birthday my little man. You are growing up so fast, I can hardly stand it. Our lives have changed so much since you were born. You have lived in Texas longer than you lived in Canada, I guess that makes you my little Texan. I love you more than you can ever possibly imagine. I know there are times when I treat you like a 'baby' but it's my way of trying to hold on to you and not wanting you to grow up as fast as your brother and sister have. They're almost 16 and 17 and I just want to hang on to the little boy you are a little longer. I'm trying to let you grow up and be the wonderful person you are. You are truly one of the most generous people I've even known and I am so proud to call you my son, I'm so proud to be your mother
..........love mom.