I am very excited! I sold my first crocheted item! A pair of Mary Janes in adult size.
This is a picture of them. I'll change the picture later on today...my daughter begged me not to post this picture because of her hairy legs...lol...but I did anyway. I'll change it later when I can get a better picture.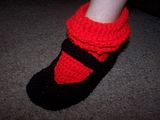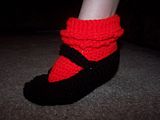 Thank you so much to Linda at CrochetMania for giving me the idea to make these into an adult size. I had them on my Etsy shop in a baby size but she liked them so much she wanted a pair for herself. So, I had to 'dig deep' to create my own pattern for these and I'm proud of myself that I could actually do it. I used a different pattern, with permission, for inspiration and you could hear the frogs around here a lot telling me to 'rippit', but I finally got it done after midnight. My daughter thought they looked funny until they were on her foot and then I heard 'These are actually comfy. When do you think you can make me a pair?'...uh huh........
Thanks Linda for the insipiration and for helping me get over that first hurdle of making my very first sale!