I had such a great time!! My dear sweet hubby surprised me a couple of weeks ago with Dallas Stars hockey tickets. I was so excited. You see, being born and raised in Canada, hockey is in your DNA (lol). I had never seen a NHL game. I had such a fantastic time!!
Opening faceoff. Dallas is in the green, for those of you who don't know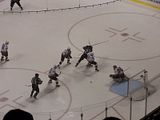 Here is ....geesh I forget who it was now....the second goal of the night. The first goal was made by Mike Modano...his 501st goal, to tie the all time record in scoring by an American born player. Unfortunately, he did not break the record that night, that was the only goal he scored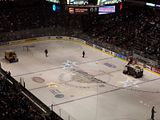 A little 'tiff' started to break out here. There were a few that night, which the crowd just loves. I prefer the hockey part myself. I know, I'm such a 'girl'.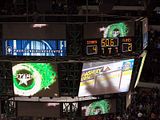 And the final score, with 50 seconds left to go, 4-2 for the Stars. I was so glad that they won when we were there.
It was so much fun, I just can't tell you. Celena Ray, who was in the top 10 of the American Idol Carrie Underwood season sang both the Canadian and American national anthems and did a great job. I guess she does it all the time.
I also bought myself a 'Dirk shirt' which I've been wanting for a long time...over a year. I'm a HUGE Dallas Mavericks (basketball) fan!! I tried to get tickets but they're sold out for the rest of the year...bummer. Maybe next year.
Anyway, I just had to share my wonderful night with you. It was a complete blast!!