The last 2 years we've been in an extreme drought here in North/East Texas. This week it actually RAINED and rained gooooooood.......too good. Take a look at our backyard. We have a creek that runs next to our house and it overflowed. You can't tell the difference between the creek and our yard...where does one start and one begin??
So much for the yard work we had planned this weekend!!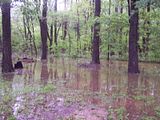 The 2 trees on the right hand of the picture are about 10 feet from the creek....and now are IN the creek....lol
The little bench in the backround of this pic is about 6 feet from the creek....kinda In the creek now too....not fun!