I have 7 more squares done of my 63 squares ghan. If I said it once, I'll say it again and again....gauge..grrrrrr.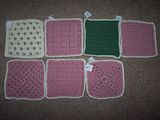 But I'm taking a little bit of a break and am making a diasy ghan for my daughter's best friend's birthday coming up in about a month, a little less. I'm using Bernat black for the background and some RH variagated yarn for flower. I'll be putting a 'hot pink' border on each square for joining. Not sure how big I'm going to make it yet, depends on time and how I'm feeling. I've been soooo sick for the past....running on 2 weeks now and I'm living on gingerale and toast and chicken noodle soup. It's hellacious but (hopefully) I'll make it through. At times I have to wonder.
Anyway, here are the two different square colors I'm making for Madison's daisy ghan....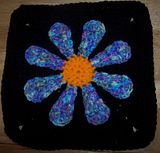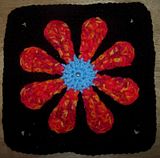 And one more thing........HAPPY BIRTHDAY VIQUI!!!!!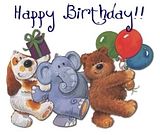 May this coming year be a brighter, healthier one for you.