I really s hould have posted this a couple of weeks ago and I apologize to my Secret Pal on Crochetville. I really enjoyed getting this package and I've really enjoyed the great ecards you send me in the morning. This has been so much fun so far!!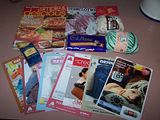 Also, I just wanted to post another Comfortghan made for Viqui. This one was made mostly from the

Yahoo group Barefoot Crochet

. As soon as they heard Viqui was not well they banned together for this ghan. I was honored to put it together for them and send it to her. She really loved it!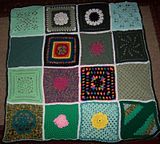 Just a note........Viqui came through surgery well yesterday evening. Her daughter called to let me know. I'll call her this afternoon to check in with her. Thank you all for your good thoughts for her.