So here it is. The yarn that I'm going to use for my mother's Christmas gift. It is Lion Brand Homespun 'Harvest'. Now, she kinda knows about it, well to be honest, she picked it out. When she was here in the summer I got the book in the mail. She went through it and told me she loved a sweater called 'Frilly-Edged Sweater. Hang on one sec, I'll take a picture of it so you can see it.............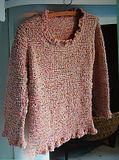 K, I'm back, here it is...... pretty huh? Although, this is the one and only time I will post a picture of it until after Christmas. My mom, I just learned in the summer when they were here, periodically reads my blog. So, for a tiny bit of a 'surprise factor' I won't post a finished pic until after Christmas.
I just ordered the yarn for it today....
JoAnne's
Fabric had the best price....and I can't wait to start it.
Now, onto something that I'm (literally) just sick about.
A couple of weeks ago we went to the beach, remember, I posted about it. Well, something horrific that day!! I dropped my camera on the paved picnic area. When this happened the lens popped out and skipped across the pavement....as you can see in the picture below. You may have to click on it to see the scratches. BUT if you look at the (what would have been) pretty picture on the left, you can see the scratches very clearly. *sigh*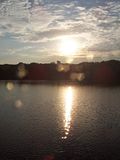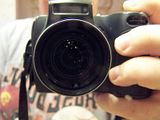 So, now I'm looking on eBay to find a camera like mine that doesn't work that I can use to repair mine.
DANGIT
!!