Alrighty........here is Austin's round ripple. I think I'm going to add at least another 2 or 3 colors after I get the yellow done. These are the colors he's picked, and while they may not be MY first choice, it's his blanket after all!! It's about 38" so far.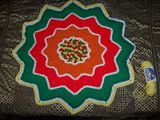 Next, Samantha's 'scrapghan'. I started this off as a baby blanket for someone but she loved it so much I decided to make it longer for her for Christmas. Here it is so far, about half done I think (it's folded in half, by the way) and she's picked out most of the colors for this as well. It works up relatively quickly, just like the ripple so that's great for me, only 2 months from Christmas!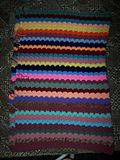 Now, just to put together DH's blue king size afghan and make my other son's snowflake 'ghan'. Still have to get more yarn for that one so I figured if I can get these other 2 done I'll have plenty of time for his. Phew.....who knew making all these things for Christmas would take so long? Certainly not my dear dear hubby, who thinks I should be able to whip up a blanket in a weekend, a king size one that is. Geeeesh!!