Well, I was just sitting here, at the computer, realizing I had not posted in a few days. Maybe because not a lot has been going on........oh wait!! I'm wrong.....there has been stuff going on and that's why I haven't posted........been busy.
On Wednesday, the day after my birthday, Selena came and took me out for lunch. She also brought me some great gifts too. It was awesome. The best part of it all was getting to 'meet' her. Well, we talk on the phone all the time and talk on the Crochet Mania forum but it was so nice to see her in person. We had a wonderful time and I sure hope we get to do it again.
Here is the stuff she brought me............nice red yarn to make stuff for my red/apple kitchen...
yay
!!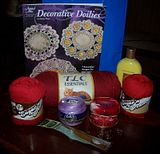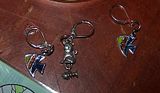 On Thursday a woman by the name of Darlene came to my house to learn how to crochet. We found each other through '
freecycle
' which is kind of like a trading post for people to get rid of things they don't want instead of throwing them away in the garbage and taking up landfill space. I had made a post about wanting some yarn and she emailed me to ask if I could teach her how to crochet. She was extremely way too generous and brought me all of this stuff as payment.......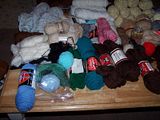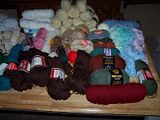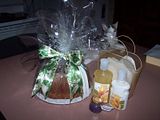 It turned out she already knew how to crochet but she had some big questions about certain things that she couldn't get the answers to. I still feel guilty about 'taking' all this stuff from her but I'm glad I could help her.
Also, I made this bag for
LadySnow
on Crochet Mania for a purse/handbag swap. I tell ya, I loved the way it turned out so much I nearly kept it for myself....and I'm not kidding, I almost did. I couldn't find a purse strap for it at
WalMart
so I ended up buying a heart chain belt and using belt. I'm
tellin
' ya..........it turned out
sooooooo
nice.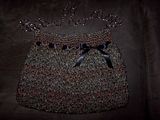 And then there's this. I made this 'scarf' for someone who asked me to (custom order from a pattern she'd found and I purchased) on my
Etsy

store
. It was a pain in the butt to do and if I ever do it again I'll charge more for it. Let's just say it's not MY style but I hope she likes it. My daughter is the model in this pic.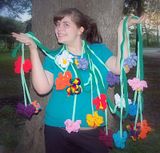 Well see, I guess I had a busy week after all...........
(((hugs)))