I'm starting to finally get some things to put in my 'appley' kitchen. Yesterday I found some spongey kind of tack paper that I just loved the design of. So I cut out the apples and glued them onto the backsplash behind my stove, which is blue...I'm not fond of blue.
And I finally the perfect curtains for my kitchen window. I was sooo happy.
So here it is ......my 'appley' kitchen...so far!!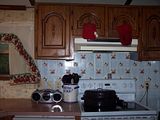 Now I need to get an apple utensil holder, an apple clock, an apple mat for in front of my sink, salt and pepper shakers.........and so on and so on and so on........lol